What Kind of Necklace Matches My Shirt's Neckline?
Finding a necklace that perfectly matches your outfit isn't solely about finding one that's similar in styling or color. It's also about finding one that complements your neckline. Though often overlooked, wearing a necklace that suits your neckline is a crucial step in looking your best. It's part art and part science, but it doesn't have to be difficult. Let's take a look at a few necklines and what type of 14K gold chain works best with each.
Understanding Necklace Lengths
Before we jump into which women's gold chains pair best with specific necklines, you need to understand a thing or two about length. Typically, necklaces range from 14 to 36 inches in length.
Chokers
The shortest necklaces measure between 14 and 16 inches. Known as chokers, these necklaces rest high on the neck and don't hang. They are in style right now, and they are a great summertime accessory.
Princess
If you are looking for a necklace that rests on your collarbone just below your neck, try a princess chain. Chains of this length are often adorned with eyecatching pendants, like sparkling diamonds.
Matinee
A matinee-length necklace ranges from about 20 to 24 inches in length and falls to the bust line. This length is rather versatile and works well with a variety of necklines.
Opera
Opera-length necklaces are long and meant to turn heads. They are anywhere from 24 to 32 inches long and often feature dramatic designs and bold pendants. Some can even be wrapped around the neck twice for a unique look.
Rope
Any chain that's longer than 32 inches is known as a rope-length necklace. Don't confuse rope chain and rope length. Rope chains feature twisted links that create a rope-like appearance and they are available in all lengths. And all types of chains — including rope, box, mariner, Cuban link and countless others — can be rope-length necklaces.
The Best Necklaces for Your Neckline
When it comes to assembling a stylish, cohesive outfit, you need a necklace that matches your neckline. Some styles showcase certain necklace types better than others. Experimenting with your jewelry and clothing to see what works best is always a good option. However, we also have some specific tips to help you get started.
High Crew Necks and Turtlenecks
When wearing a high crew-neck shirt or turtleneck, opera-length chains are your best bet. They complement the neckline, and depending on what style you choose, they can add a bold, eyecatching element to an otherwise plain outfit.
V-Necks
Wearing a rounded necklace with a v-neckline appears mismatched. Instead, choose one that forms a V shape and mimics the neckline. Necklaces with pendants are perfect. There is some flexibility in terms of length, but the necklace should rest somewhere between your collarbone and upper bust.
One-Shoulder or Halter Top
If you're going out this summer wearing a one-shoulder or halter top, a choker is the best option. However, these styles also look great even without a necklace because of their unique neckline.
Strapless
Whether it's a tube top, strapless dress or another sleeveless style, they all work well with a few different necklace types. For a simple look that's perfect for summertime, try pairing a choker or princess-length necklace with your favorite tube top. Matinee and opera-length necklaces work well, too, as long as you're wearing a solid color. If you're heading to a fancy event, a matinee or opera-length piece would look great with a strapless little black dress.
Boatneck
Boatneck — also known as Bateau — tops feature a neckline that stretches across the collarbone. This style has a graceful look and feel, and you need a necklace that is just as graceful. Be mindful to ensure that it doesn't detract from your top's neckline. Delicate, minimalistic styles work best. Avoid bold, flashy jewelry and necklaces that fall below your neckline. Don't wear a choker, either. Stick to simple, elegant classics.
Button-Down and Collared Shirts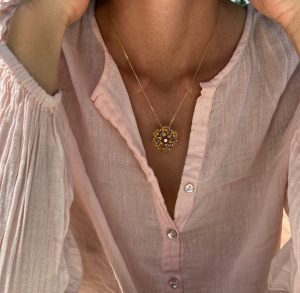 Like strapless tops, button-down and collared shirts are pretty versatile in terms of what necklaces they look best with. It all depends on how many buttons you fasten. Leaving a couple of buttons undone creates a v-neckline while fastening them results in a rounded neckline. Experiment with different necklace styles to see what works best for how you button your top.
Additional Tips for Choosing the Perfect Necklace
The suggestions above provide an excellent starting point for matching necklaces to necklines. They aren't rules that are set in stone, though. Be yourself and experiment with your favorite tops, dresses and necklaces to create looks that make you feel your best. Even if you come up with an outfit that breaks the rules, the most important thing is that you love it.
For daytime wear, sticking with simple styles is usually the most appropriate option. Save the bold, fancy looks for evenings out. Consider the occasion, too. The necklace that's perfect for a daytime music festival probably wouldn't be suitable for, say, a formal wedding.
If you can't decide on a single necklace, consider layering them. Necklaces of different lengths often work well together, especially with open or plunging necklines.
Closing Thoughts
Whether you are heading to work, brunch, a concert or anywhere else, the right necklace is sure to tie your entire look together. Take your time and choose one that makes you look and feel your best. It might take some practice and experimentation, but after a few tries, you'll be assembling outfits and accessories like a professional stylist.